December 22, 2006
---
Visit to the Machine Shop
I took a trip out to see my engine at Al Blake's shop this morning. He's cleaned and magnafluxed the block and head and done all the critical measurements. For the most part, my engine is in pretty good shape with no big surprises. Al has done so many of these engines that there's probably nothing he can't handle, and I'm glad (well, my wallet is certainly glad) that there's nothing unusual needed here.
Al only found three items worth noting. The first is that the cylinders are 0.020" oversize, indicating that the engine has been rebuilt once already. There's no way of knowing when, but it had to be quite a while ago judging by the amount of oil sludge inside. There's no problem with this, since we'll take off another 20 and fit new pistons and rings. These 320s can be bored up to .125" oversize (yes, a eighth of an inch!) yielding something like 345 cubic inches, so 0.040" oversize is nothing.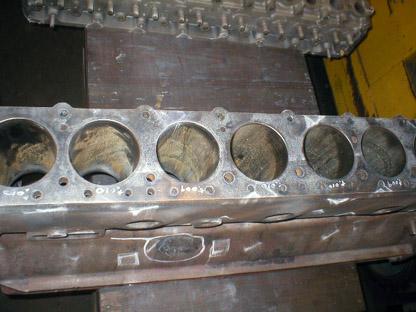 Cylinders have already been bored 0.020".
The next interesting item was a repair in the block. Initially there was concern that the engine had tossed a rod in the past, but there's no ancillary damage to support that theory. Al supposes that it was a repair at the factory, perhaps to correct a defect in the casting rather than scrap it. The war was on the horizon and perhaps iron was getting scarce.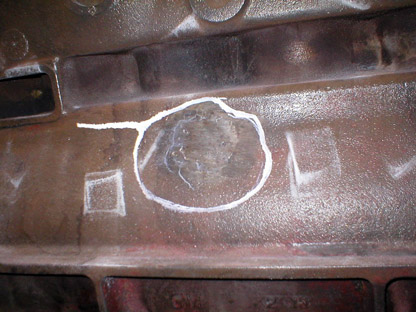 External block repair looks to have been welded up and ground
smooth. It hasn't led to any stress cracks, so it was a good job.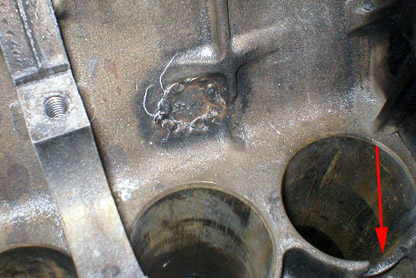 Inside the block the weld is easier to see. The arrow indicates a broken
part of the casting at the bottom of the bore. Because of the location,
Al doesn't believe a broken rod from this cylinder could have caused the
damage to the block. The broken casting won't matter since the
pistons don't drop this low in the cylinder.
The final item of note were two small cracks in the head between a water jacket hole and a head bolt hole. Al says this is very common and doesn't cause problems after the rebuild because the head bolts go into the water jacket anyway. Some thread sealer on the head bolts will prevent problems.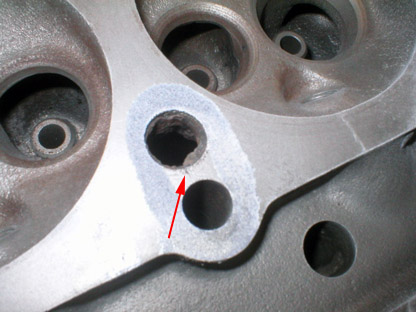 Slight crack between head bolt hole and water jacket.
As far as the rebuild, I've decided to make some improvements to the engine. First, I'll be adding hardened valve seats and stainless valves to the head for better durability with unleaded gas. Al will also do a standard 3-angle valve job on all the valves. We're also shaving the head and block a few thousandths to increase compression slightly. On the bottom end, we're going to turn the crank 0.010" undersize and convert to insert bearings instead of babbit.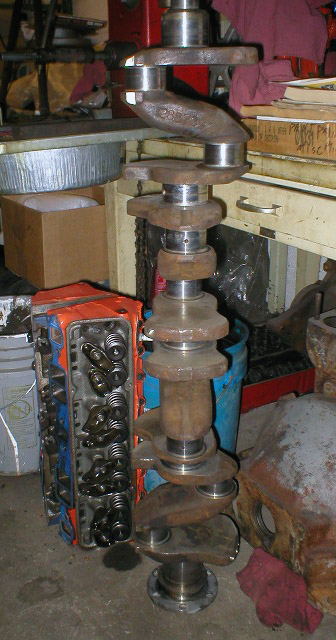 Crank is in good shape. Check out its size
relative to the small-block Chevy heads!
As a former racer, I had all kinds of wild ideas about what to do with the engine: knife-edging the crank weights, Extrude-honing the manifolds, porting the head, swirl-polishing the valves, etc. Al sagely pointed out that this engine can't use these upgrades simply because of how it's designed. You couldn't make enough improvements to the intake tract to overcome the goofy design of that intake manifold. This is also what Nick Seybold has been telling me for years--it's just not worth it. Plus there's the fact that this thing will never be driven hard and may never even see full-throttle ever again. What's the point?
The rods will be exchanged for a later set that are already equipped with insert bearings, which is cheaper than having the original rods turned and modified. I'm guessing Doug Seybold will have a set I can buy. I'll also be acquiring from Doug a later front cover with a rubber seal instead of the '41's rope seal (though the rear main will remain a rope). And as long as I'm shopping at Doug's, I'll install one of his newly ground 3/4 race camshafts. I have an NOS Isky cam still in the box that I paid way, way too much for on eBay a few years ago, but I think it's more valuable in the box rather than in the engine. Besides, Doug's cam benefits from fifty years of cam development and should work better than the hot-rod Isky part.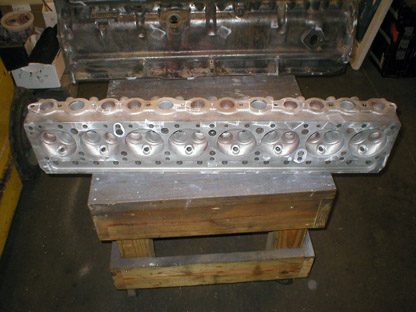 Glass-beaded head almost looks like aluminum! How cool would
an aluminum head be?
Once we have all the parts, we'll balance the entire assembly. For these low-RPM motors, it may not be necessary, but as long as I'm in there... I'm sure you know how that goes.
Other things on the menu: after Al cleans and mags the manifolds, I'll be shipping them off to Jet-Hot to be coated inside and out. I have used Jet-Hot on headers and intake manifolds many times before and have always been impressed with the quality and that it actually works to reduce radiant heat. The exhaust manifolds will be done in their cast iron gray so they'll stay new-looking forever. I'll powdercoat right over the Jet-Hot on the intake along with the rest of the engine. Once Al is done with the machine work, I'll take it to Mark Brown at Creative Powder Coatings to have the block, head, water pump, front cover, oil pan, valve cover, side cover and all the other red engine parts powdered. It should look awesome and last forever.
There's progress again and I will keep adding updates as things happen. I'll be stopping in to see Al every few weeks, so we should be able to see the entire process along the way.
On the other hand, please keep using that Eastwood
link to make your purchases, guys. The bill for all this is going to be staggering. Thanks!
Previous Restoration Day
Next Restoration Day
---
E-mail me at toolman8@sbcglobal.net
This page accessed
times
Last modified on 01/12/2007
Thanks, Fidget!