1941 Buick Buyer's Guide
Apparently, I've become the #1 resource on the Internet for information about 1941 Buicks. Yeah, that surprised me too, but do a Google search for "1941 Buick" and see for yourself—I'll bet I show up as one of the top 5. I'm #1 on Yahoo, too.
Because of this, I get a lot of E-mails from guys who are interested in 1941 Buicks, are thinking about buying 1941 Buicks, who just bought a 1941 Buick or who know a friend who has one or is looking to buy one. I try to help out as much as possible, giving facts and things to look for when buying a 1941 Buick, and even trying to speculate on the value of a car, sight unseen (very dangerous). So with that in mind, I thought I'd create a 1941 Buick buyer's guide to help you guys interested in these cars get a better grip on what to look for so you can be a smart buyer. Think of this as an appendix to my first article, "Buying a Collector Vehicle," which I also recommend you read if you're thinking of buying an old Buick.
This article is broken up into 4 parts:
I think the first thing you need to know is what kind of Buick you're looking at. A lot of guys make the mistake of thinking that all 1941 Buicks were alike, especially people selling stuff on eBay. Sure, many of the pieces were interchangeable, especially cosmetic and interior parts, but there were two very distinctive sets of mechanicals and body panels that are not interchangeable. Here's a basic primer on what Buick was up to in 1941.
In 1941, there were five different Buick model lines, called "series." They used both names and numerical designations. The chart below explains how the series numbers and names are related:
| | |
| --- | --- |
| Series Number | Series Name |
| 40 | Special |
| 50 | Super |
| 60 | Century |
| 70 | Roadmaster |
| 90 | Limited |
CHART 1
Of these five series, there were four different wheelbases and two different engines offered. The Special was broken into 118-inch and 121-inch wheelbases (A-Series and B-Series, respectively) and used a 248 cubic-inch straight-8. Dual carburetors were optional on Specials. The Supers used the same 121-inch wheelbase and 248 cubic-inch engine as the Special B-Series, with dual carburetors as standard equipment. The Century and Roadmaster lines were mechanically identical, riding on a 126-inch wheelbase and using a 320 cubic-inch straight-8 with standard dual carburetors. The Limited rode on a massive 139-inch wheelbase using the same 320 cubic-inch engine as the Century and Roadmaster lines.
The Specials and Supers are often referred to as "small series" cars, while the Century, Roadmaster and Limited are, obviously, the "large series" or "big series."
| | | |
| --- | --- | --- |
| Model | Wheelbase (in inches) | Engine |
| Special A-Series | 118 | 248 cubic inches |
| Special B-Series | 121 | 248 cubic inches |
| Super | 121 | 248 cubic inches |
| Century | 126 | 320 cubic inches |
| Roadmaster | 126 | 320 cubic inches |
| Limited | 139 | 320 cubic inches |
CHART 2
Buick also offered two distinct types of bodies. In 1941, General Motors debuted their new aerodynamic "torpedo" styling, a look we would today call a fastback. This new styling was available in the Special and Century lines and included 2-door coupe (called a sedanette or sedanet) and 4-door sedan bodies. No convertible versions of the torpedo body were available in 1941. Unsure of how well the new styling would sell to the public, Buick hedged its bets and also offered more traditional trunk-back styling similar to that offered in 1940. The traditional look was available in the Special, Super and Roadmaster series in 4-door sedan and 2-door coupe styles as well as 2- and 4-door convertible models. The Limited series continued using only mammoth, traditionally-styled 4-door sedan bodies.

Model 46S sedanette (fastback) styling vs. traditional model 56S "trunkback" styling.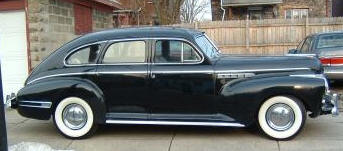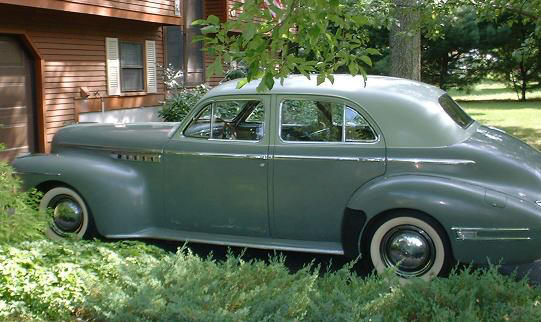 Model 41 4-door sedan fastback styling vs. traditional model 71 "trunkback" styling. Especially note the
differences in the rear quarter window treatments.
Go on to part 2: IDENTIFICATION
---
E-mail me at toolman8@sbcglobal.net
This page accessed
times
Last modified on 06/27/2005
Thanks, Fidget!