Matt's 1941 Buick Century Restoration
---
Welcome to my project: the complete ground-up restoration of a 1941 Buick Century Sedanette. This is a relatively rare car; only about 5500 of them were built in 1941. Who knows how many have survived the past 60+ years? If you have one, please let me know! I'm starting a registry and would like to add yours to the list.
I am somewhat familiar with '41 Buicks, as my father drove a 1941 Buick Super business coupe to work daily when I was a kid in the early '80s, and they've always held a special place in my heart. I found my car on the Internet, and bought it sight-unseen after having a friend take a look at it. This web page will chronicle the complete restoration of the car.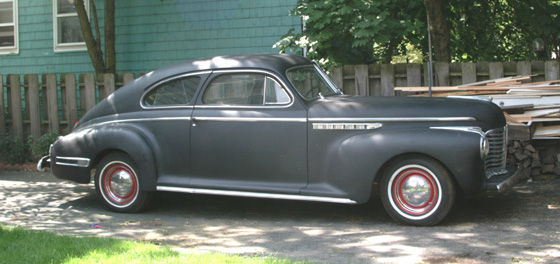 My car, as delivered.
I plan to keep this page updated regularly with my progress in the Restoration Log section. I also want make this a place where other enthusiasts can get together to compare information, share stories, and lend assistance to one another. In the coming months, look for new features to be added to this page.
---
E-mail me at toolman8@sbcglobal.net
This page accessed
times
Last modified on 05/19/2005
Thanks, Fidget!

All text, images and information, unless otherwise noted, are Copyright Ó Matthew N. Harwood & Harwood Performance Engineering, 2002, 2003, 2004, and may not be reproduced without the express written approval of the author. All rights reserved.