February 25, 2008
---
The Straight-8 Comes Home
Well, there's no getting around it: this project has to move forward now; there are no more excuses after spending enough on the straight-8 to put a new roof on my house. I picked it up this evening from Classic Auto Repair Service (CARS) and brought it home in the back of the Big Red Dodge.
Of course, I'm faced with the next question: What now? I've got 900 pounds of cast iron on a pallet in the back of my truck (even as a 3/4 ton, the Big Red Dodge was feeling the weight). Because the clutch and bellhousing are already installed on the engine, I can't hang it on my engine stand. I hate seeing it just laying there like a corpse.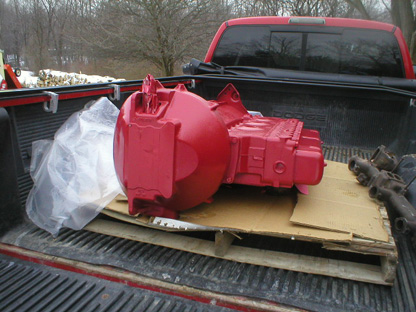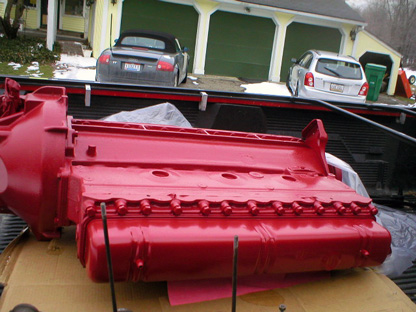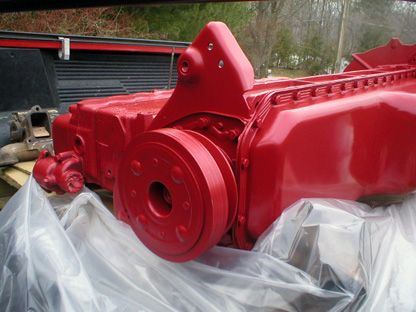 For the moment, the owner of Julia's company has generously offered to store it for a while in his warehouse. More importantly, they have a forklift that can get it out of the back of the truck. Fortunately, the company is small and Julia knows the guys in the warehouse, and I have no concerns about its safety while it's there. I'm going to wrap it in plastic for now to keep it safe, but after conversing with guys on the AACA message boards, I think getting it onto a cart should be a priority. I'll also have to figure out a way of getting it off the pallet and stand it upright on a cart.
My plan for a cart is similar to the chassis dolly I built a few years ago: Simple wood construction with wheels to roll it around. Looking at the engine, I think I'm going to build a mounting system that will use the front engine mounts and the bell housing to support the engine and keep it steady. I'll put some big casters on it to allow it to roll around pretty easily, although I'm hoping that it'll be in the chassis by the summer. When I build the cart in the next few weeks, I'll show it to you.
I know I've mentioned it before, but I again want to say how much I appreciate the work Al Blake and the guys at CARS did on the engine. Not only did they work with me to accommodate some of my "upgrades", but Al was extremely patient and understanding with the big financial changes in my life. Ultimately, it took more than a year to get it done. I can't recommend Al and CARS highly enough.
For the curious, here are some of the highlights of the rebuild:
.040" cylinder overbore with new cast aluminum pistons
Late Buick straight-8 connecting rods with insert bearings (+.010")
New stainless exhaust valves
Hardened valve seats
Modified valve guides with positive seals
3/4 race camshaft (supplied by Doug Seybold, 440-835-1193)
.040" shaved from both head and deck to raise compression
3-angle valve job
Rebuilt oil pump, rocker assembly and clutch
New timing gears & chain
Rotating assembly completely balanced
Late Buick straight-8 timing chain cover with neoprene seal (to replace original rope seal)
Things I didn't do on the rebuild were related to breathing (ported intake & exhaust manifolds) and appearance (powdercoating the engine). The breathing was an exercise in diminishing returns due to the basic design, and the powdercoating wasn't practical from an assembly standpoint. So I compromised. However, I am going to have both the intake and exhaust manifolds Jet-Hot coated to control heat. The intake will get a coat of Dante Red paint, while the exhaust manifolds will get a natural cast-iron gray finish. But before that, I need to either find some undamaged exhaust manifolds (unlikely) or get these repaired. I have a few leads on getting it done, and hopefully it will not be a challenge.
So all I need now are some warm days to start putting the chassis back together...
PS: My house is sold!
Previous Restoration Day
Next Restoration Day
---
E-mail me at toolman8@sbcglobal.net
This page accessed
times
Last modified on 02/26/2008
Thanks, Fidget!