July 6, 2002
---
Brakes & Some Wiring
I managed to get the front drums off (you'll recall that I was having problems before). It turns out that they were indeed held on by the spindle nut, much like the front discs on most modern cars. The hub appears to be riveted to the drum, making replacement a questionable situation. I believe these must be the original drums for this reason--the rivets don't look aftermarket.
Still, I was able to disassemble the hub with two sets of bearings and races and clean out all the old grease. The parts looked like they were still in good condition, so I'll use them for now, and when I do a complete front-end restoration, I'll install new bearings and seals. I also painted all four drums with satin black paint. Again, when I do a complete rebuild, I'll probably powdercoat them for durability. For now, they look pretty good.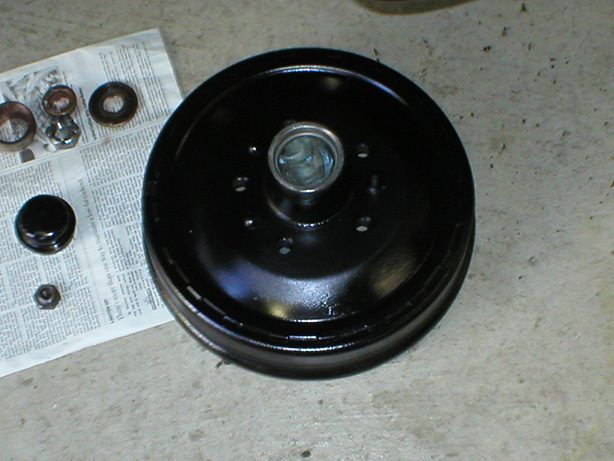 Painted front drum with hub. Note the bearing races in the upper left corner. They've been coated
with Mobil 1 synthetic grease to prevent rust.
Before I button it all up, I'll be installing new springs and shoes, as well as a set of fresh wheel cylinders. The existing ones look original and are pretty ragged.
I also took a look at the lights, especially the parking lights and turn signals so that it will be road worthy. When I pulled the housings, this is what I found: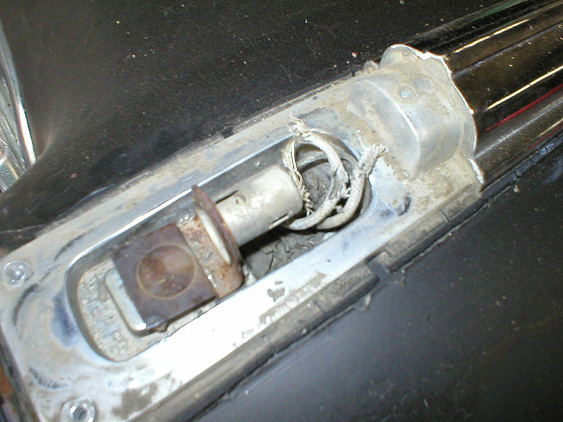 Wiring insulation has practically dissolved.
I think I'll rewire these lights with new sockets and get them working again. I expect I'll find the same situation in the taillights, but I'll cross that bridge when I come to it. I'll have to order some new parking light lenses before I'm done, too.
Previous Restoration Day
Next Restoration Day
---
E-mail me at toolman8@sbcglobal.net
This page accessed
times
Last modified on 02/06/2005
Thanks, Fidget!