August 7, 2002
---
Colors
In the late 1930s, Harley Earl, GM's styling chief, formed the Art & Colour Department, which would be responsible for the exterior colors, interior colors and fabric selections of all GM cars for the next three decades. 1941 Buicks seemed to benefit most from their work, offering no fewer than 25 different colors, ranging from dark blues and greens, to grays and silvers, to bright yellows and reds. In addition, eight two-tone color combinations were available at no extra cost.
I picked up an original paint chip chart on Ebay which lists all the colors available on 1941 Buicks. On the back, it lists the paint codes and combinations that were available. The body tag on my car indicates body trim #574. With this chart, I was able to deduce that my car was originally two-tone Black with a Pearl Gray top. This makes sense, as I can still see the pearl gray inside the upper door jambs. It appears, however, that the car has been repainted at least four times! That's a lot of paint to strip off.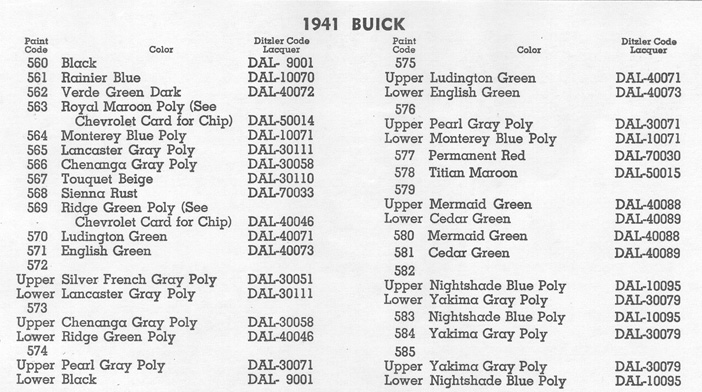 1941 Buick Color Codes and Combinations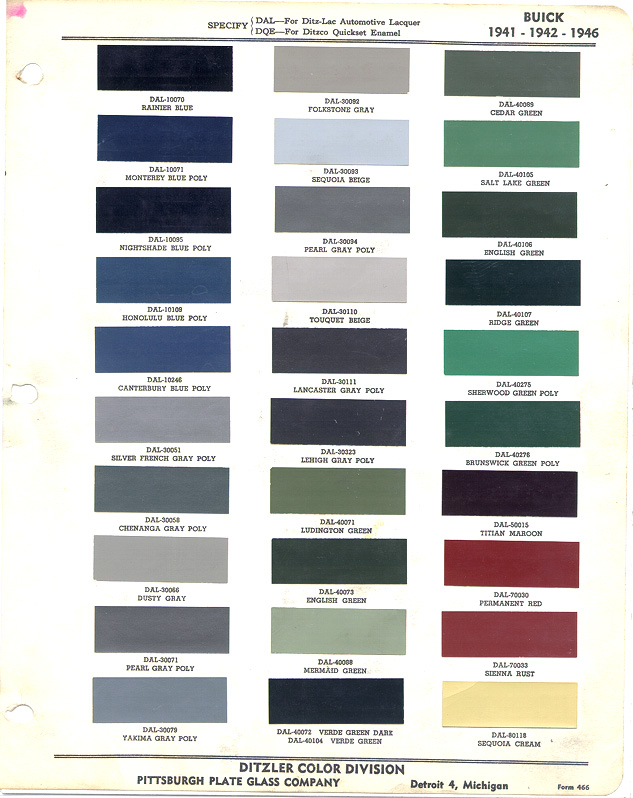 The vast array of colors for Buick in 1941
I've put Julia in charge of our Art & Colour Department because she's better at colors than I am. She likes dark blue with a silver top (probably code #576, Moterey Blue with a Pearl Gray top), but now that I know it was originally Black with a Pearl Gray top, I'm sort of thinking that I should return it to original (despite the fact that I'm planning a leather interior, which is definitely not original). Nothing looks better than a black car, but it's a part-time job keeping it clean and shiny. Also, every little scratch and dent shows up, so the body work had better be perfect before you use black (though I doubt dark blue is much better). Fortunately, the sheetmetal on my car is straight enough that I don't think it will be a problem making it near-perfect. Take a look at some of the combinations we've considered and vote for your favorite, or suggest something else. Help us decide.
Previous Restoration Day
Next Restoration Day
---
E-mail me at toolman8@sbcglobal.net
This page accessed
times
Last modified on 02/06/2005
Thanks, Fidget!