September 4, 2003
2.0 Hours
---
Getting Some Heat
I decided that I wanted to finish just one part of the restoration this weekend. That part would be the heating system, including the underseat heater and the defroster unit. A few months ago I scored a NOS heater motor on Ebay, and the cores of both the heater and the defroster seem to be in good condition and don't leak. The housings are also in good condition and just need to be blasted and powdercoated. So that's where I started. I'll let the pictures tell the story.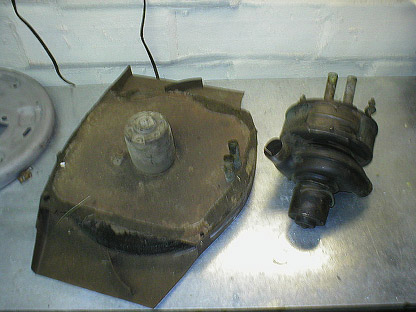 Heater (left) and defroster both use circular heater cores and fans
inside to force air out of the housings through the cores. The underseat
heater uses a 4-blade fan, while the defroster uses a squirrel cage.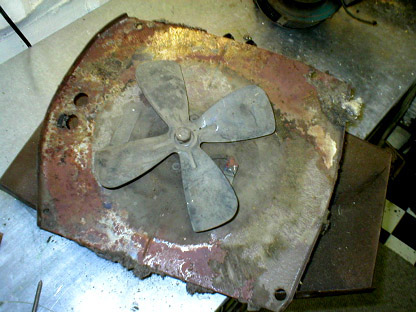 Once the top cover and core are removed, you can see the simple fan
that moves the air out from under the passenger's seat.

Though it doesn't leak, the heater core is pretty gross. I'll
use a soft brush and a lot of soapy water to clean it up as
good as new. I also have a trick for straightening the inlet
and outlet tubes, which I'll show you later.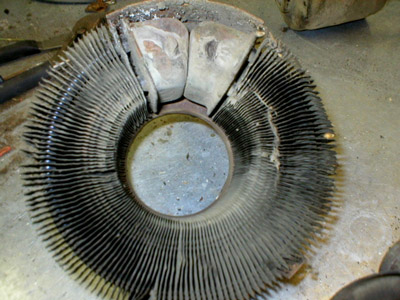 Defroster core was in much better condition, probably because
it is under the dashboard and in its own housing.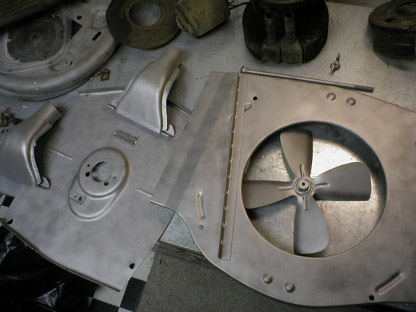 All the parts were blasted clean, including the ducts that attach behind
the dashboard for the defrosters (upper left). All the heater parts are
painted a chocolate brown, so I bought some powder that is pretty
darned close. Paint would probably be sufficient, but since powder
is so easy and durable, why the heck not?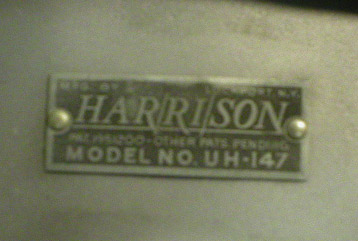 Original Harrison tag was still on the heater housing. I tried
to protect it as I blasted, but the sand still got to the edges.
Nobody will ever see it, but I thought it was neat.
Previous Restoration Day
Next Restoration Day
---
E-mail me at toolman8@sbcglobal.net
This page accessed
times
Last modified on 02/06/2005
Thanks, Fidget!