September 7, 2003
6.0 Hours
---
Heater/Defroster Restoration
Today I finished the parts I blasted the other day, including the heater and defroster housings and their fans. The powder I bought from Caswell was virtually the exact color I needed for these parts, and I'm really pleased with how they came out.

All the parts look great. The blower housings and defroster
ducts are all brown and the fans (4-blade for underseat heater
and squirrel-cage for the defroster) are 60% black.
I also tested the motors for both the heater and defroster, as well as the NOS motor I purchased, using my rectifier. By setting it at 6 volts, I could spin a motor with as few as 2 amps. As luck would have it, both original motors are still operational, while the NOS motor is not. Still, the originals were a little noisy and weren't too happy turning, so I blasted them with some WD-40, which helped a bit. Since I don't know anything about electric motors, I'll have them rebuilt, including the NOS motor, so I'll have a spare if I ever need it.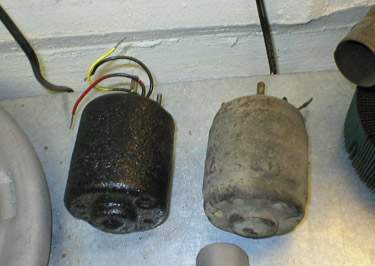 NOS heater motor on the left, original on the right. The
original still works, though the NOS motor is DOA.
The last part of the restoration was testing and restoring the cores. I placed the underseat core in a bucket of soapy water to try to clean off some of the gunk trapped in the fins. I threw the defroster core in the blast cabinet and went over it lightly to just clean off some of the corrosion.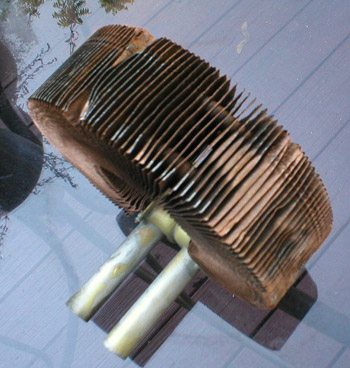 I blasted the defroster core lightly to clean off some of the
corrosion, but the fins were still bent pretty badly.
Then I spent about an hour straightening all the fins and tried to make them look correct. I ordered some radiator paint from Eastwood
, so once it is painted, nobody will ever see any of the slightly mismatched fins. I also filled it with some of the Rusteco liquid to remove any corrosion inside the core's four tubes and to test for leaks. Hopefully, I'll be able to reassemble everything later this week after I hear from an electric motor rebuilder.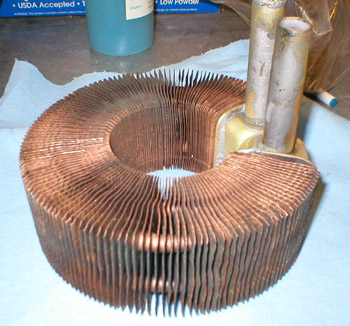 Looks pretty good once it is straightened. With luck, it
won't leak and I can paint it and rebuild the defroster assembly.
Previous Restoration Day
Next Restoration Day
---
E-mail me at toolman8@sbcglobal.net
This page accessed
times
Last modified on 02/06/2005
Thanks, Fidget!