October 27, 2004
---
Professional Powdercoating
While this update doesn't really cover anything I've done, I thought you would appreciate seeing a few things that have been going on around here recently.
First, my friend Nick Seybold came over last Thursday night and gave me a lot of great advice on how to get the back of the car aligned and welded back together. We started by getting the decklid aligned properly and using it as a baseline for straightening everything else. According to Nick, the back of these cars never really fit very well anyway because of the complex curves of the decklid, and even a perfect, undamaged car will show uneven gaps and wide reveals along the quarter panels. So we got mine flat along the deck under the window and worked from there. Both the left and right quarter panels are tweaked, so I'm going to force them back into shape using a Porta-Power, then weld the back of the car back together. I'll be doing that this weekend.
So once again, I am in the debt of Nick Seybold, perhaps my Buick's guardian angel. Thanks, Nick!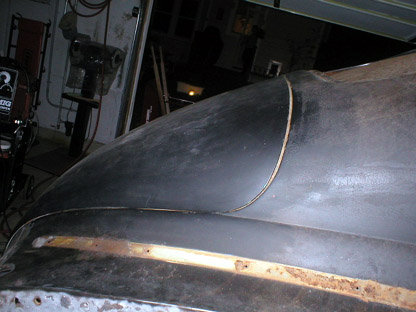 Decklid fits pretty well, no? We got the gaps pretty even with some
pushing and pulling (I think I'm inside the trunk at this point, pushing
on the quarter panel and adding washers under the hinge bolts).
Yesterday (my last day of unemployment, by the way), I drove out to Creative Powder Coatings in Elyria, OH to pick up my parts, which they graciously held during my period of, um, financial instability. It's kind of Zen; I dropped the parts off the day before I was fired and picked them up the day before I started working again. Perhaps this is a good omen for the future of the restoration. Or it's just stupid coincidence. You decide.
Speaking of the parts, they are gorgeous! Mark and Gail Brown run an outstanding business at Creative Powder Coatings and do first-rate work worthy of any Concours restoration. They specialize in high-end motorcycles and cars, using a lot of care, top-quality materials, filtered air in their sandblaster and precise masking. Their standard practice is two coats of powder, tied together using one cure cycle for a deep, rich, durable coating that doesn't de-laminate. It's the nicest work I've ever seen out of a powder coating operation. I'm careful with my own work, but it just doesn't compare.
Mark recently developed a technique for matching powder to liquid paint, and he demonstrated by showing me the powder coated frame of his Suburban and the painted body--both an identical dark blue metallic. Best of all, the price was right-on. Call Creative Powder Coatings at 440-322-8197 if you need the best powder coating available anywhere. Now if only they had an oven large enough for the body...
Look at their work:


Axle housing. Note the masking job around the center section and ends.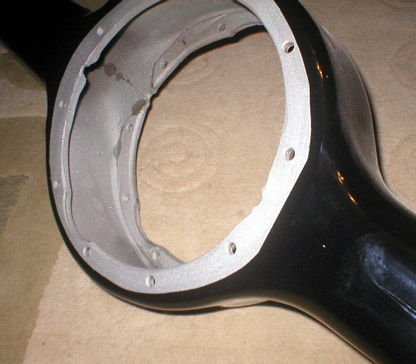 Sandblasted clean, inside and out. Nice.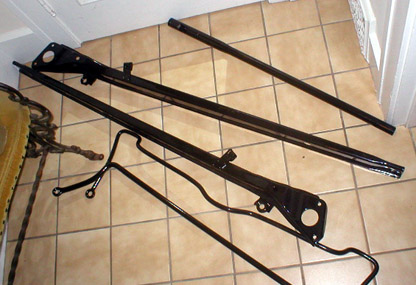 All of my rear suspension parts in gloss black. All of them like new.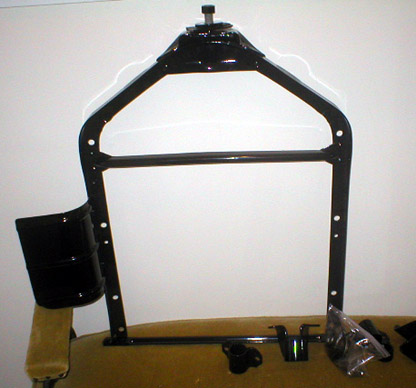 Radiator bracket is perfect. They disassembled it, powdered all the
parts (including the screws), then put it back together.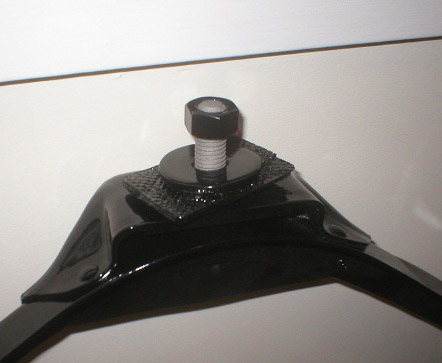 Dig this: they powdered the frame, washer and nut, but left the threads
clean and fresh. Who else does this kind of work? Who?!?
Previous Restoration Day
Next Restoration Day
---
E-mail me at toolman8@sbcglobal.net
This page accessed
times
Last modified on 02/06/2005
Thanks, Fidget!