May 3-4, 2003
---
My Mustang
As you may know, I own a few other specialty cars, including my beloved 1993 Ford Mustang LX 5.0. I bought this car new in the fall of 1992 just after I graduated from college. This is the car that I had been dreaming about for five or six years, and when I saw the revised 1994 Mustangs, I decided I'd better get one before my dream car was gone. So I sold my 1976 Cadillac Eldorado convertible that I'd restored and with which I had an 8-year love-hate relationship, and ordered the Mustang from Chuck Price Ford in Burton, Ohio.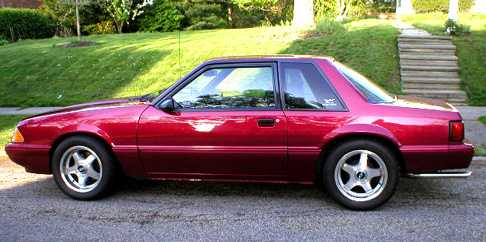 It looks clean, but it's actually filthy. I drove it to work Monday in the rain, and
it shows up close. 16" wheels look pretty small in these days of 20" truck wheels.
I really wanted a green car, but the color had been discontinued for 1993, and unless I wanted to order 10 of them, I was out of luck (what the heck happened to the good old days when you could have any color you wanted, as you could have with my Buick?). So I agonized for a week or two over the color chart and chose Electric Red Clearcoat Metallic with a black cloth interior, sight unseen. The red is a glowing candy-apple maroon, really quite amazing and radiant in the sunlight. After seeing the car, I have no qualms about my choice, and love it more than green. I've never seen another one with my color and a black interior, which pleases me. I get a lot of compliments and often have to convince people that yes, that really is factory paint.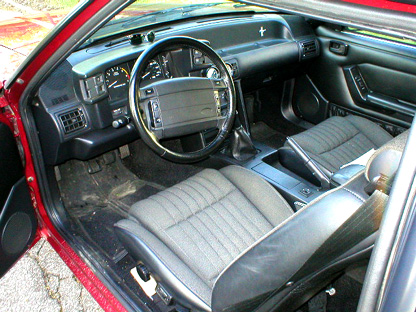 Interior survived storage without incident. Floormats are pretty
dirty from driving it in the rain. No mice problems, fortunately!
I bought the notchback coupe because it was the lightest, stiffest body available, and got cloth seats because they were grippy, unlike leather. I was active in autocross at the time, and this was to be my ultimate contender. The car showed up in late September 1992, and as I instructed, the dealer called me before they prepped it (I didn't want somebody to wash it improperly or anything...). I drove out to the dealer, and they let me drive it off the back of the truck and take it home without any prep--awesome.
Over the past 10 years, I've modified the car to become my vision of the ultimate all-purpose performance car. I stiffened the chassis with a rollbar and subframe braces. I improved the suspension with oversized tires, better shocks, stiffer springs and wider wheels. I goosed the horsepower with various engine mods, up to and including a 342 cubic inch rotating assembly. I installed bigger, more powerful brakes. I also spent a lot of time detailing and polishing the engine compartment, giving it a unique look. I won at autocross a few times (1994 E Street-Prepared Champion, by the way), then graduated to open track sessions on road courses where I could really let the overpowered car stretch its legs. I did this for a few years, too, but eventually decided that racing was just too hard on the hardware and retired the car to show duty. Besides, I was working for a Corvette tuner, and had plenty of track-ready cars available to drive instead. I've won several awards with the Mustang, including a best of show and best engine compartment. I hate to admit it, but it actually got to the point where I believed the car was just too nice to drive.

Engine compartment is a big disappointment. All the polished aluminum
is chalky white, and the IAC (near the intake elbow) is rusty. Lots of work
to be done here.
Two years ago, I stashed the car at my father's house, covered it, disconnected the battery, and basically forgot about it. I had a new house, a new job, a new wife, FrankenRanger and now the Buick to eat all my time, so the Mustang was ignored. I felt guilty every time I thought about it, and Julia asked me more than once why I didn't sell it, but I just couldn't. It was my dream car, my first new car, and it was a perfect piece (just try to find a perfect, unabused, well-maintained 37,000 mile '93 Mustang coupe--they simply don't exist any more).
So on Saturday, I got it out of storage. My father's garage was less than an ideal place for it, being unheated, and the two years of neglect showed. The exterior was filthy and water-stained (the garage roof had leaked on it), even though it had been under a quality cover. The highly-detailed engine compartment was dirty and the polished aluminum was chalky with corrosion. The tires were low (but not flat), the wheels dull (more corrosion had slipped under the clearcoat on the wheels), and the battery dead. I popped in a new battery, however, and it fired right up and settled into an even, smooth idle. Electronic fuel injection is wonderful. Hello, old friend.
I brought it home to get it back into shape. On the drive home, I could feel that the tires were flat-spotted, the brakes rusty, warped and probably had air in the lines, and it ran hot, which meant that the cooling system was full of crud (all of which I expected).
I had a set of brand-new hot-rod brake pads from years ago, so I bought new rotors, bearings, seals, hoses, calipers, etc. for the front brakes (the rears were OK once I cleaned them and gave the pads a quick rub with some sandpaper). I took the new rotors into my shop and powdercoated the hats gloss black (the 100% black that I wasn't planning on using on the Buick). I had painted the old rotor hats years ago, but it was flaking off. With the powdercoating, they turned out awesome. I cleaned the front spindles and installed the new bearings and seals with Mobil 1 synthetic grease, then installed the bearings and rotors. I flushed the lines and buttoned it all back up. Good as new.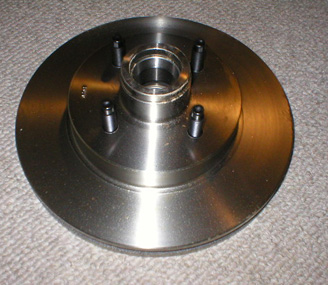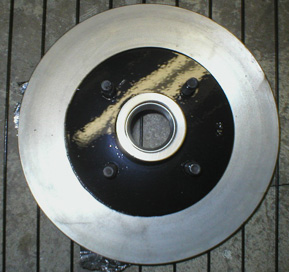 New rotors look good. They look better after having the hats powdercoated black. The trick is in
the masking to keep the rotor surfaces clean so the pads don't get contaminated.
Then I power flushed the cooling system and refilled it with a 70/30 mixture of distilled water and anti-freeze. I changed the oil and both oil filters with 10W-30 Mobil 1, drained the transmission and filled it with Mobil 1 ATF (the Mustang 5-speed manual uses ATF, oddly enough), and cleaned and refilled the limited slip rear with Mobil 1 gear lube and Ford friction modifier. I cleaned and oiled the air filter, replaced the fuel filter and cleaned the PCV valve. I greased the front end, power-washed the undercarriage, wheel wells, and the back sides of the wheels, and put it back on the ground, healthy, if not pretty, again. When I fired it up, all the gauges were good to go with no signs of long-term storage problems or damage. Nice.
I didn't detail the car, however. It's supposed to rain tomorrow (Monday), and as of right now, the car will have to live outside until I find a more suitable storage space. I have a few neighbors who have extra space that I'm going to ask. For now, I'll keep it under the cover in the driveway, and not worry too much about getting it cosmetically perfect again. The engine compartment needs A LOT of work to get it back up to show-winning standards, including re-polishing all that aluminum. I'm not looking forward to that, but at least now I can powdercoat the pieces with gloss powder and not have to worry about it ever again. But ugh! I hate polishing metal.
So I'll start driving it again. The Buick has drastically changed my philosophy on cars. They can't be both perfect and enjoyed. They're meant to be driven and suffer if they're not. I'm putting a lot more time, effort and money into the Buick and plan to drive the doors off it--why shouldn't I do the same for the Mustang? It's just a car; I can always restore it later...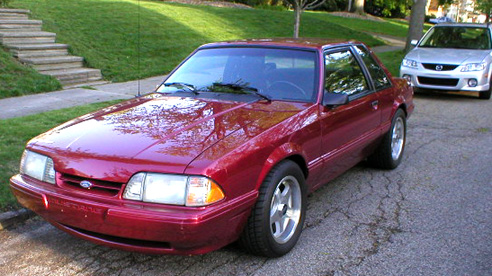 Mustang and my trusty Protege5 relaxing. Glad to have the Mustang back again.
Previous Restoration Day
Next Restoration Day
---
E-mail me at toolman8@sbcglobal.net
This page accessed
times
Last modified on 02/06/2005
Thanks, Fidget!