May 19, 2005
0.0 Hours
One Year Ago Today
---
The Frame Returns
I haven't been slacking, I've been in the trunk, grinding and welding trying to finish the whole area. I'll show you the finished product shortly. Finishing the trunk also means I can move on to something else. That something else will be assembling a rolling chassis.
I took the day off from work today, having attended the midnight showing of "Star Wars" last night (dork!), and hauled myself out to Elyria to see Nick Seybold and pick up my frame from Creative Powder Coatings. Big thanks once again to the Seybolds for not only loaning me their tow rig to pick up my frame, but for storing the frame for me for a few days until I can make room for it in my garage. I'll find a way to pay you guys back, I promise!
And, of course, the frame is perfect. Mark and Gail Brown run a first-class shop that does first-class work. I'm glad to see that they're finally enjoying some success, having built the business up from a small 2-man operation. They deserve the success. Mark described the lengths he had to go to to get my frame clean, especially in the boxed-in areas up front and in back. Despite my best cleaning attempts with a pressure washer before taking it in, Mark says he spent close to 10 hours getting all the gunk out using a combination of methods. The results are definitely worth it.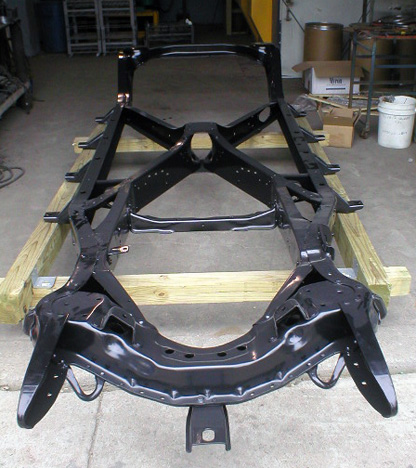 Frame looks perfect in semi-gloss black.
I had Creative Powder Coatings use a 60% gloss powder on the frame, in contrast to the high-gloss they used on some of my other parts. Mark even called before he started to verify this was actually what I wanted. I like the look of semi-gloss black on chassis parts, but I especially like the highly-detailed look of a variety of different gloss levels. It looks both authentic and makes each part stand out. Add in some plated assemblies, stainless brake and fuel lines, glossy torque tube and other suspension parts, and the bottom of this car will look as great as the top.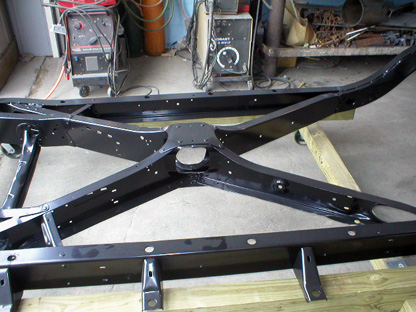 Even if it's a little dusty, the frame looks awesome!
I also took some pictures of some of the great cars the Seybolds always have laying around their shop, but Doug has asked me to refrain from posting any more photos of their vehicles on the Internet. That's completely understandable for security reasons, so though I wish I could show you all that cool stuff, you'll have to take my word for it that these guys really know their stuff. If you have an old Buick, this is definitely the right place to have it restored.
Previous Restoration Day
Next Restoration Day
---
E-mail me at toolman8@sbcglobal.net
This page accessed
times
Last modified on 05/25/2005
Thanks, Fidget!