7/19/04
Rotisserie Construction
Page 1 Page 2 Page 3 Page 4 Page 5 Page 6 Page 7 Page 8 Page 9 FINAL Update
Once everything was where I wanted it, I set the entire assembly up on a makeshift welding table I set up in the shop. When doing any finish welding, I find it easier to position the work where I can make a flat weld at a comfortable level. Kneeling on a floor trying to make a weld work on a vertical surface is no way to get strong welds.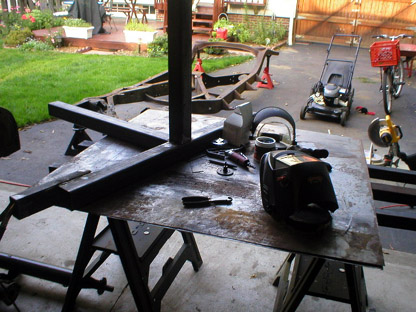 Setting work up at a comfortable level leads to quality welds.
Welding thick metal is going to be a challenge with any "hobby" level welder, mine included. Though it says that it will weld 1/4" metal, it won't do it for long without overheating, so plan your welds accordingly and don't just keep going--make sure you pause occassionally to let the welder cool off. I typically put my tack welds in the middle of joints, then finish weld on each side to minimize the time I spend with the welder going full tilt.
With such heavy metal, it isn't so critical to prevent heat build-up as it is with sheet metal, but if you are doing finish welds on one side of a piece with only a tack on the other, it is possible to pull the tack apart with the heat. Use caution and common sense.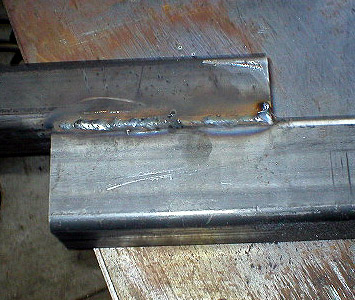 My weld quality has definitely improved. Though this is kind
of a crappy photo, this is a near-perfect "stack of nickels" joint
with excellent penetration and coverage.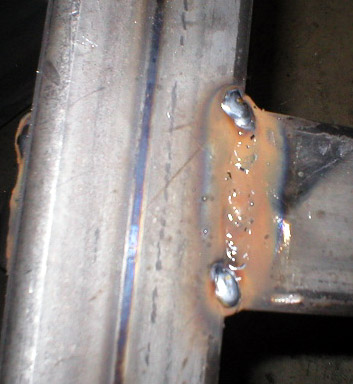 Another decent weld. Corners are thicker because of passes
from each side and the back overlapping.
Page 1 Page 2 Page 3 Page 4 Page 5 Page 6 Page 7 Page 8 Page 9 FINAL Update
---
E-mail me at toolman8@sbcglobal.net
This page accessed
times
Last modified on 02/06/2005
Thanks, Fidget!